EXPRESSION OF INTEREST:
COD ACOUSTIC SOUNDING SURVEY
REGISTRATION & DRAW FOR CAPTAIN/VESSEL/CREW
DEADLINE TO REGISTER: 2PM, MAY 27TH, 2022. Click here to register.
The PEI Fishermen's Association are seeking 1 Captain, Vessel, and a crew member to potentially participate in an acoustic sounding project in the cod spawning area near Miscou Bank (Shediac Valley). The PEIFA plan to submit a bid to DFO for the project work and therefore are subject to the successful award of the contract. The captain will use the acoustic equipment to locate the spawning area, once located the captain will sail the spawning area to delineate the extent of the spawning aggregation. The captain will then conduct parallel transects placed at 1nm intervals to moving from the eastern most extent of the aggregation to the west until the area is covered. Acoustic data collected will be downloaded at the end of each survey.
The timeframe of the project is late April to early July with a maximum of 10 surveys throughout the season (1 survey per week only). Final number of surveys to be determined by DFO upon reward of the contract. Maximum hours to complete 1 survey is 12 hours. Maximum survey speed is 8 knots. The project is intended for 2022 with late start. If extended to 2023, this selected Captain would be utilized to complete the project.
DFO will provide the installation and calibration of the acoustic survey equipment on board fishers vessel. The PEIFA will cover the cost of a boat specific side mounting bracket made to attach the side-mounting transducer provided by DFO.
Please check out the website www.peifa.org for more details including proposed rate of pay and registration for the project draw. Please contact Laura Ramsay (902)393-2281 or Melanie Giffin (902) 566-4050 Ex #5 if you have any questions.
A registration and draw will be administered by the PEIFA to determine the participant.
Registration Dates: May 25th, 2022, until 2:00PM, May 27th, 2022
Fee: No fee for registration
How to Register:Fishers can register online at www.peifa.org by clicking 'Registrations & renewals' tab then the 'Cod Acoustics Survey Registration 2022" link or contact the PEIFA office to register by phone or in person.
Required Information: Fisher's name, phone #, FIN #, homeport, vessel name, VRN #.
The Draw will be held immediately after the completion of the Registration at 2:00PM May 27th, 2022.
Interested individuals can find details about the Captain's responsibilities, project protocol and required documentation via the website, www.peifa.org or contact Laura Ramsay @ (902) 393-2281 or Melanie Giffin @ 902-330-4466.
For full details of the project, click here.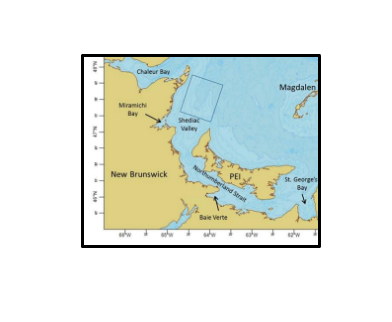 Task 1: Acoustic Vessel - A minimum of one fishing vessel will use an adaptive survey design to locate and delineate the spatial extent of the cod spawning area near Miscou Bank. Once located the survey will use a parallel transect pattern with transects placed at 1nm intervals to avoid double counting.